Club News
Men's competitions
---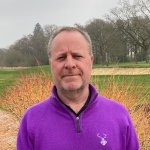 Martin Smith
PGA Professional Hartley Wintney Golf Club
REH Marsh Spoon - Saturday, 8 and Sunday, 9 May
Last weekend saw the playing of the REH Marsh Spoon played over both Saturday and Sunday. With the weather forecast of rain and high winds, it was no surprise that scoring was going to be difficult. Producing a fantastic score in the worst of the weekend's conditions was Jeremy Fox whose 39 points was good enough to secure first place. Four players then followed, all scoring 38 points, after countback, the next four places were taken as follows:- 2nd - Darragh Doherty, 3rd - Steve Goodlud, 4th - John Long, 5th - Mark Furze.
Countback was also needed to decide who would pick up the final sweep position, as the next five players all finished with 37 points, and that was to be Hardeep Sehmi using his new PING 425 hybrids, finished in sixth place.
The weather also affected the 2's sweep, with only six two's being recorded, each two was worth £19.66. They were scored by Karl Flodman, Kevin Wise, Mike Roberts, Jeremy fox, Paul Marsh and Richard Vangrove.
Congratulations to all the prize winners, well played.
Midweek 18 Hole Stableford - Tuesday, 11 May
Although the wind produced a stiff challenge for the 47 strong field, it was nice for the players to feel the temperature a few degrees warmer than of late. In first place scoring 39 points was Kevin Speakman, well done Kevin, an excellent round in the testing conditions. Following in second place on 38 points was Pete Worthington, with Keith Morris taking third place on 37 points.