Club News
Men's competitions
---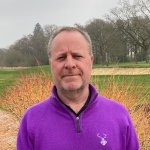 Martin Smith
PGA Professional Hartley Wintney Golf Club
Midweek Stableford - Tuesday, 27 April
With the temperature still languishing in single figures through the day, the entry for the Mid-Week Stableford wasn't as high as normal, but nevertheless, it was just as competitive. Finishing in first place with an excellent score of 41 points was Jeremy Jones, Jeremy was two points clear of Tony Wise who took the runners-up spot with 39 points. Third place went to countback with two players both scoring 37 points and it was that man John Kaye again making it three prize-winning finishes in a row who took the remaining voucher position. Just missing out was Paul Murphy, who is enjoying a welcome return to form. There were 31 entries.

Bob Dicker Trophy & Artisans Cup Qualifier
There were 57 entries in the Bob Dicker Trophy & Artisans Qualifier played over the weekend. With the Betterball format, it was no surprise that the scoring was going to be pretty high, and so it was that Colin Smith and Andy Payne did not disappoint finishing in first place with a superb 45 points. Two teams then followed both scoring 43 points, so countback was required to separate them. In the runners-up position was the team of Steve Harrison and Lewes Long, with Tony Davie and Marcus Lillington taking third place. Five teams then followed all scoring 41 points, after c/b it was Pete Worthinton and Chris Merrick who finished in fourth place.