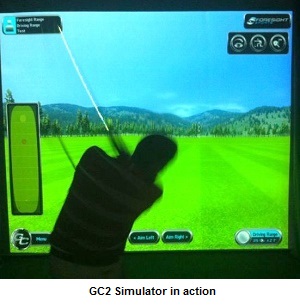 Our new upgraded indoor golf studio is up and running. The GC2 ball monitoring equipment and simulator has helped us to achieve some fantastic results with teaching and club fitting. It also allows golfers to play on some of the best courses in the world in the comfort of the indoor studio. This will give all members the opportunity to work on their game through the winter, whether it be tuition with ourselves or a round of golf in the warm.
I have listed below the charges for the new facilities and if you have any questions regarding this cutting edge technology or would like to make a booking please contact us by clicking here.
Golf Tuition
Lessons can be a combination of our outdoor practice facilities and use of the indoor studio. With Christmas fast approaching lesson vouchers are available.
- Martin - 40 minute lesson £35.00
- Sam - 40 minute lesson £32.50
Golf Simulator
Choose from one of 14 famous Championship courses to play including Royal Birkdale, Turnberry, Royal Troon, Congressional and the 2016 Ryder Cup venue Hazeltine, plus others
£30.00 1 hour, e.g. £7.50 per head for 4 players
£55.00 2 hours, e.g. £13.75 per head for 4 players
£80.00 3 hours, e.g. £20.00 per head for 4 players
£10.00 Individual 30 minute practice session

Gap Testing
Find out exactly how far you hit each club in your golf bag. Do you have 2 clubs doing the same job? Make sure you have the correct mix of lofts on your wedges!
£30.00 45 minute gap testing session.

Ball Fitting
Are you playing with the best ball for your game? The correct choice of ball could help you drive it longer and hit your iron shots closer to the pin.
£20.00 30 minute ball fitting session